New Bethany Ministries (NBM) will hold its 31st annual Souper Day on Friday, October 7, 2022, at 12 PM at The Event Center at blue in Bethlehem, PA. Funds raised from the event will be used to support New Bethany's ongoing efforts to combat housing and food insecurity in the Lehigh Valley. 
"This year we continue the tradition of sharing a simple meal of soup and salad while thinking about our neighbors who often must go with less," stated Marc Rittle, executive director of New Bethany. "From the latest homeless reports, we know there is a 36% increase in people experiencing homelessness in the Lehigh Valley since 2020. The need for homeless intervention and prevention is growing, and Souper Day is an amazing opportunity for the members of our community to come together and help those who need it the most."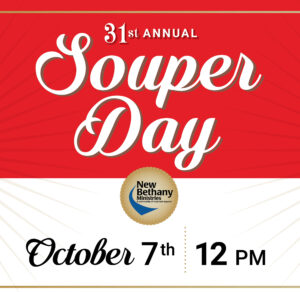 Laurie Hackett, director of communications and philanthropy for Air Products, is Souper Day's honorary chair. The lunchtime event will feature keynote speaker Wandalynn Enix of Bethlehem City Council, and former WFMZ – Channel 69 reporter and news anchor Will Lewis as emcee. Attendees can expect to hear stories from New Bethany's clients and staff and will learn more about the organization's mission and its work.
NBM is pleased to announce Air Products and B Braun Medical Inc as Souper Hero—or lead—sponsors. Additional sponsorship opportunities support New Bethany's mission to offer hope and support to people who experience poverty, food insecurity, and homelessness.
Registration is required by September 23, 2022. For more information, sponsor opportunities, and registration, visit https://newbethany.org/event/31st-annual-souper-day-event/